DoD Physician Shortage May Cause Lapse in Patient Access to Care
A new GAO report finds that insufficient recruiting methods have led to a physician shortage and limited patient access to care in the military service branches.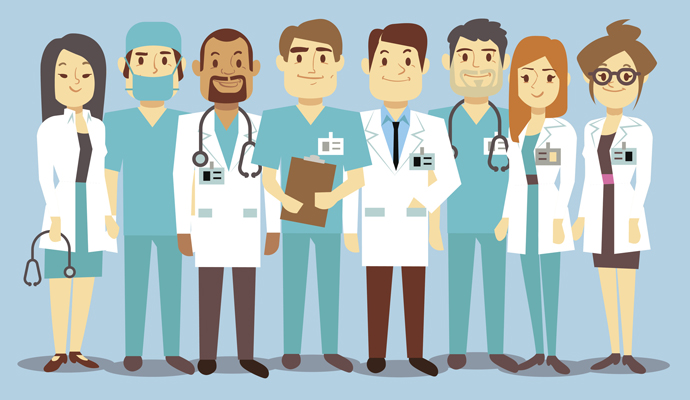 Source: thinkstock
- The Department of Defense (DoD) and the three military branches have insufficient strategies for recruiting military physicians, limiting patient access to care especially during wartime, according to a new report from the Government Accountability Office (GAO).
The military has two central strategies for recruiting military doctors. First, the military relies on recruits who have already completed their medical education and are interested in enlisting in the military.
Second, the military relies on two scholarship programs that offer financial incentives in exchange or military service as physicians.
Under the Armed Forces Health Professionals Scholarship Program (AFHPSP), DoD pays for tuition, books, and fees, as well as a monthly stipend for students enrolled in civilian medical schools. These students must in turn serve six months of active duty service for each six months of benefits received.
The Uniformed Services University of the Health Sciences (USUHS) is a military medical university run by the DoD. It is no cost to students who enter active duty services as medical students. These students receive pay and must serve a minimum seven-year service.
READ MORE: Physician Shortage Drives Wait Times, Harms Patient Care Access
AFHPSP and USUHS attract and retain over 16,000 military physicians, but according to the GAO report the military still experiences physician shortages that negatively impact patient access to care.
It is difficult for GAO to precisely pinpoint the current military physician shortage because shortage thresholds vary depending on the service branch and medical specialty. In some cases, anything lower than 100 percent of the necessary personnel is deemed a shortage; other areas state that less than 80 percent required personnel is a shortage.
In 2015, between 16 and 28 percent of medical specialties were below 80 percent required threshold in the Army, Air Force, and Navy, the report noted. This presents a pressing problem for military personnel seeking medical care, especially during war time.
"All of the components experienced gaps in a number of specialties; several of these were below 80 percent of authorized levels and are in what are considered critically short wartime specialties," the report noted. "Until the services develop and implement strategies to alleviate these gaps, they could be at risk of not being able to provide medical care to servicemembers during wartime."
Physician shortages are an issue that plague the entire nation and also harm patient access to care. This nationwide issue certainly has its impact on the military, but GAO contended that insufficient physician recruitment activities are also an issue.
READ MORE: Medical Resident Shortage Hinders Rural Patient Care Access
DoD and other military bodies must develop better strategies for recruiting medical students into AFHPSP and USUHS, which DoD says are its fundamental physician recruiting tools. These programs are not reaching full physician enrollment rates.
The Army enrolled its program at 71 percent to 85 percent maximum allowed students. The Navy reached between 59 and 63 percent, and the Air Force reached between 70 and 79 percent enrollment.
Service officials explained that competition with the private sector and overall national clinician shortages make their own recruitment challenging.
"However, the services have not developed targeted strategies and considered how these strategies can be aligned and coordinated to reduce gaps in key specialties," GAO observed. "They have also not developed metrics to monitor and evaluate progress toward reducing key military physician gaps."
DoD is not using its scholarship programs to their fullest potential, GAO stated. The programs are not addressing specific military physician gaps because the services do not target these specific care gaps.
READ MORE: What Providers Should Know to Improve Patient Access to Healthcare
"For example, the services have not developed a targeted and coordinated strategy for maximizing their use of the AFHPSP program, including expanding the program to recruit reserve component physicians, which could bridge the gap between authorizations and end strengths," GAO stated.
The services do not have an adequate strategy for funneling physicians into their chosen specialties. The Army, Navy, and Air Force do not force physicians into a certain specialty, but also do not have sufficient support to guide personnel into their selected specialties. GAO identified shortcomings with respect to physician shortages in specific specialties and said DoD must revamp their efforts in this area.
The underlying problem is that DoD does not use data to refine its programs and determine progress and success.
"The services have not developed metrics to measure the effectiveness of their recruitment, training, and retention programs in addressing gaps," GAO explained. "For example, while service officials stated that they measure the success of the AFHPSP program by monitoring the extent to which recruitment goals are achieved, these officials did not indicate that they assess the effectiveness of their combined programs in reducing physician gaps."
GAO recommended each service branch develop more targeted recruitment strategies and metrics to track success. Each branch received its own recommendation because recruitment should be unique to the individual needs of each service branch.
The report also included information about data collection and retention about personnel qualifications within the scholarship programs and the cost of the programs. Generally, GAO found that information on these matters is insufficient and called on the military branches to create pathways to support better data collection.