Few mHealth Apps Effective in Promoting Patient Engagement
Commonwealth Fund researchers show that a majority of mHealth apps are ineffective at promoting patient engagement.
- When it comes to patient engagement, not all mHealth apps are created equal.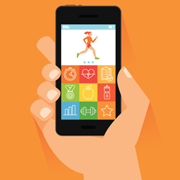 In a data brief out of the Commonwealth Fund, a research team led by Karandeep Singh and David Bates, MD, discusses various different mHealth apps aimed toward increasing patient engagement in chronically ill patients, demonstrating that not very many apps do this effectively.
A thorough search of the iOS and Android app stores yielded the team a total of 376 iOS apps and 569 Android apps that were patient-facing, in English, unique, and healthcare-specific. Those apps were then examined for usefulness based on app description, reviews, ratings, screenshots of the apps, and date of most recent updates.
After eliminating the apps that weren't useful, the research team was left with 161 iOS apps and 152 Android apps to actually examine for patient engagement value.
Patient engagement value was determined by a number of factors associated with different levels of patient engagement. These factors included providing educational information, reminding or alerting users, recording and tracking health information, displaying and summarizing health information, providing guidance based on user activity, enabling communications with providers and family members, providing support through social networks, and supporting behavior change in rewards (such as a points system).
The researchers found that very few apps actually hit all of these targets. While some may have been good for educating patients with low levels of engagement, it did little to engage high level patients through communication and incentive models. On the flip side, some apps focused solely on engaging users who were already highly engaged in their care and neglected to utilize education opportunities for users who may have displayed lower levels of patient engagement.
Some of the higher-rated apps the team worked with used reliable sources for health information throughout their development. One app, which provides support for those coping with behavioral health illnesses like depression or anxiety, included clinical experts in psychology as a part of app creation.
This app, although targeted mostly toward those with high levels of patient engagement, received notably high ratings from both clinical and nonclinical reviewers. These high reviews were likely results of the app's usability, functionality, and simplicity.
Some apps that did not receive particularly high ratings from the research team often did little to educate users or prompt them with further actions to better their health.
Another separate behavior health app allows users to rate their mood from day to day as a way to track how they are feeling. The app was not highly recommended because it does not prompt users with action steps to improve their moods, and does not give information about why the tracked metrics are relevant.
The research team found that most of the apps examined weren't particularly useful in promoting patient engagement. By not meeting usefulness and effectiveness measures, these apps are leaving a gap in the mHealth space for better patient engagement products.
"An evaluation of 143 apps targeting high-need, high-cost patients using the framework proposed in this brief has been completed and results are forthcoming," the researchers explained. "While apps have tremendous potential to engage high-need, high-cost populations, a minority of patient-facing health applications on both the Apple and Android stores appear likely to be useful to patients."
In general, the study highlighted the need for effective apps in promoting patient engagement. mHealth apps hold a lot of possibilities in boosting patient engagement, which in the long run is linked to improving overall health and healthcare costs.
"Chronic disease self-management and promotion of patient engagement are essential to successful care management programs targeting patients with high needs and high costs and are associated with improved quality of life, functional autonomy, and decreased hospital use," the researchers explained. "Mobile health applications, or apps, designed for smartphones can help empower high-need, high-cost patients to self-manage their health."