How Health Orgs Address Wait Times to Raise Patient Satisfaction
Healthcare organizations are continuing to improve their practice flow to reduce patient wait times and improve patient satisfaction scores.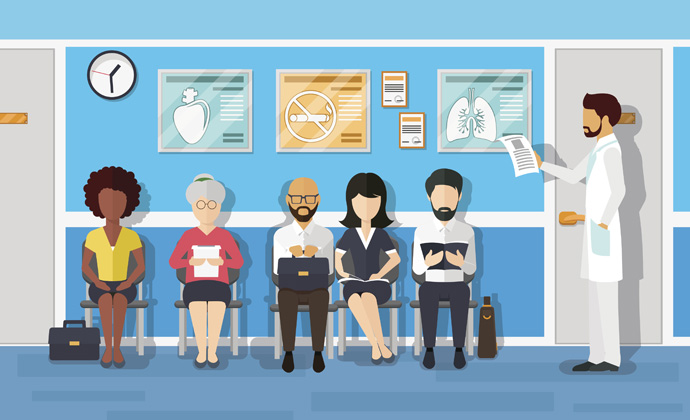 Source: Thinkstock
- There are few greater frustrations for patients than waiting an inordinate amount of time to see their provider. In fact, long wait times are one of the top issues negatively impacting patient satisfaction scores.
A 2018 patient survey from online provider review website Vitals found that 30 percent of patients face long wait times at their provider offices. Twenty percent of patients said they would change providers if they faced too many long wait times.
The good news is that appointment wait times are becoming less burdensome, even if only by a little bit. A 2017 survey from the Medical Group Management Association (MGMA) found that wait times went down by five minutes since 2016. On average, patients waited 20 minutes in the waiting room before heading to the exam room in 2017. In hospital-owned practices, wait times averaged at 17 minutes.
Healthcare organizations are continuing their work to reduce wait times, 2018 data from MGMA recently revealed. The survey found that 49 percent of healthcare organizations have changed their processes to improve patient wait times. Another 22 percent of organizations are in the process of improving practice flow to reduce patient wait times.
Healthcare organizations beginning practice transformation to reduce wait times need to look at the issues that are hindering operations, Kenneth Hertz, FACMPE, Principal Consultant at MGMA, said in an interview with PatientEngagementHIT.com.
READ MORE: Patient Satisfaction and HCAHPS: What It Means for Providers
"What causes the delays anyway?" Hertz posited. "Until you truly understand what causes them, you can't fix them. A lot of practices try to fix delays without understanding what causes them."
There are a number of reasons patients end up spending extra time in the waiting room and exam room, Hertz explained.
Foremost, the actual patient registration process may be clunky. If a new patient arrives in the clinic, she may need to fill out paperwork about her medical history, billing information, and insurance information. Some practices ask patients to fill out this information prior to the day of the appointment, a practice called patient pre-registration.
Other practices will ask patients to arrive 20 minutes prior to appointment time.
But if an organization doesn't accomplish patient registration beforehand – or if the patient doesn't deliver on her end – this can cause some backups, Hertz explained.
READ MORE: Physician Shortage Drives Wait Times, Harms Patient Care Access
Other waiting room backups occur because an administrator may accidentally lose track of the patient on her schedule. The administrator might miss the name or not see the patient, causing an undue delay. To prevent this, all practices should use a sign that asks patients who wait longer than 20 minutes to check in with the manager.
Organizational scheduling practices can also create some issues.
"Sometimes in scheduling we look at scheduling two or three patients at the same time slot," Hertz said.
In these cases, the provider begins with one patient and usually moves sequentially through all of them.
"If you were the first person that was selected, you were lucky," Hertz continued. "If you were the fifth person that was selected, you were waiting a long time."
READ MORE: Solutions for Reducing Healthcare Appointment Wait Times for Patients
In other instances, the physician creates delays because she must attend to other emergency care. OBGYNs, for example, can be called out to deliver a baby, or a cardiologist may need to work with a heart attack patient.
Some of this can be remedied by better scheduling, but in other cases Hertz recommends practice managers simply be transparent with the patient. Explaining that an OBGYN needs to deliver a baby and will be available again in about an hour will go a long way with patients. Managers should ask patients whether they want to wait or reschedule their appointments.
Clinicians can also get caught up with other patients, either on the phone or in other exam rooms. In these instances, Hertz says practice managers need to be thoughtful in their efforts to streamline practice flow. Although administrative staff do have an obligation to keeping the business running, they need to be respectful of provider priorities to treat each patient with dignity and compassion.
Instead of directly confronting a doctor about lagging practice flow, Hertz recommends administrators appoint high performers in patient management to mentor other doctors.
"If you have a practice with several doctors, you will often have one or two docs in the practice who are really good at seeing patients, meaning they move through patients quickly and efficiently," Hertz explained. "Let's get the new doctor to spend a little time shadowing the highly efficient doctor, the doctor who really sees patients efficiently and effectively. Let's let the new doctor shadow that person to see how they see patients and how they move through patients quickly and efficiently."
Hertz also turns this around and has highly efficient doctors shadow clinicians who struggle more. High performers can see where others are less efficient and help them close gaps that way.
Of course, this takes balance, Hertz acknowledged.
"This is all still about human touch," he asserted. "This is not about an assembly line. Having said that, there are ways to be more efficient than not and still maintain that human touch."
Research has indicated that patients care less about the amount of time clinicians spend with them and more about the quality of that time, Hertz said. Doctors who maintain eye contact, speak on a patient's level, and forge a genuine connection can still deliver a quality patient experience without stalling patient wait times.
Not all practices are making a concerted effort to improve their patient wait times, Hertz explained. The MGMA survey found that 27 percent of organizations have no plans to improve appointment wait times, but most of those organizations don't necessarily need to improve patient wait times.
"Those organizations have an efficient patient flow, their scheduling is such that they schedule patients consecutively," Hertz explained. "So rather than double or triple booking, there are some practices where you'll have an appointment from 8 to 8:20 a.m., and then another patient will have an appointment from 8:20 to 8:40, and yet another will come in and have an appointment from 8:40 till 9."
That is not to say there is not a place for multiple bookings, Hertz added. A typical doctor will be working out of three exam rooms on any given day because that is most efficient and effective.
"Patient visits will take different lengths of time," Hertz explained. "You may have a follow up, a new patient visit, or a follow up with a very complicated patient."
A follow-up visit for a sinus infection, for example, might not take 20 or even 10 minutes, Hertz pointed out. Booking that five-minute appointment at the same time as a wellness check in many cases makes sense.
In other cases, a patient might need to be transferred for another test. Instead of using that transfer as down time, providers can double-book to make the most of their time.
Of course, there are instances where a practice falls short and a patient experiences a long wait time. In these cases, organizations should be up-front and transparent with patients. Apologizing and going the extra mile is important for preserving high patient satisfaction.
Practice managers can offer patients experiencing long wait times gift cards for a snack or drink in a local eatery or send a fruit basket with their apologies. While these gestures won't make the wait time any less short, it may acknowledge patient dissatisfaction and show that the practice cares.
Reducing long appointment wait times is one key element to creating an overall better patient experience. While it is frustrating for patients to wait a half hour or more for their provider, reducing wait times ultimately comes down to caring for and respecting the patient.
Organizations that prioritize their patients' time, make care more convenient, and make the patient feel care about when things go awry will ultimately improve patient satisfaction for patients.