How Medical Legal Partnerships Support Community Health Projects
Cook County Health & Hospitals System and LAF of Chicago are bringing medical legal partnerships to support community health projects and the social determinants of health.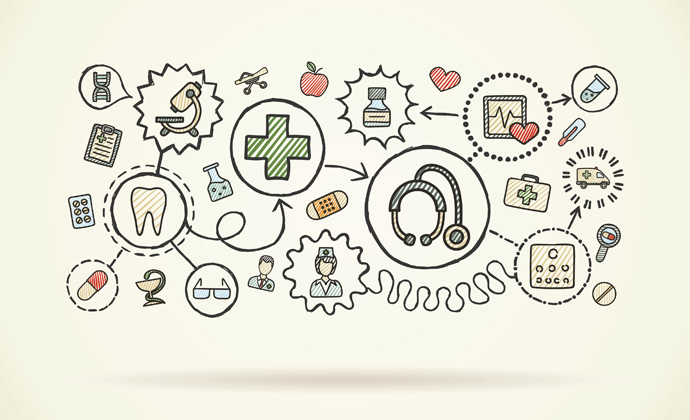 Source: Thinkstock
- On a phone call with a legal firm two years ago, Cook County Health & Hospitals Systems (CCHHS) Director of Policy Kathy Chan knew she was on the cusp of bringing community health to the Chicago area through medical legal partnerships.
The call with LAF of Chicago opened the doors Chan had been looking for. LAF Chicago, which offers free legal services for underserved individuals in non-criminal cases, was poised to help patients and providers overcome legal barriers in addressing the social determinants of health.
"There is an overlap between the clients that LAF serves – low income Cook County residents who have civil legal needs – as well as the patients that the Cook County Health & Hospitals System provides care for, especially if they're insured by Medicaid. That can be a proxy for having low income or they're uninsured," Chan told PatientEngagementHIT.com in an interview.
"Many of our patients have both complex healthcare needs and complex social needs, and so it was beneficial knowing that there is a model for medical legal partnerships out there that has been working in healthcare facilities," she added.
READ MORE: Using Social Determinants of Health in Patient-Centered Care
That conversation with LAF showed great promise in addressing the complex social needs that affect patient health, Chan stated. But the upcoming project was also shaping up to look like a jigsaw puzzle, asking Chan to put the right pieces in the right place.
"It really asks for partnership between the community based organizations, a hospital system, and also a local public health department focusing on what they were calling upstream factors that would impact social determinants," Chan explained, noting that this will require a lot of moving parts.
For one, Chan and partners at LAF needed to secure funding. The two groups took advantage of a grant opportunity from big national players, including the de Beaumont Foundation and the Robert Wood Johnson Foundation. Currently, the group is working with its implementation grant, which has allowed them to pilot their medical legal partnership on a smaller scale.
Then, both CCHHS and LAF needed to decide how they were going to tackle this project logistically, recognizing that their goal of meeting all social determinants of health through a medical legal partnership was lofty and needed to be broken down into smaller parts.
READ MORE: How Housing Support Addresses the Social Determinants of Health
"When we were coming together, we wanted to make sure it was an opportunity to be really community focused and facing," said Alice Setrini, who currently serves as LAF's medical legal partnership project supervisory attorney.
"The overlap between our LAF clients and CCHHS patients was really exciting," she noted, building on Chan's comments. "But what was also very exciting to us is that it provided an opportunity to find out from communities themselves what the legal issues were that they would like to be addressed."
The project had to be very local, Setrini added. Cook County is a large place with a diverse array of patient social needs. Attempting to address all of those needs for all patients would be too large an undertaking and would not yield optimal results, she said.
"We knew that for this partnership to make sense, we would have to be more focused," Setrini said. "We used data from CCHHS to really isolate the priority areas that we wanted to look at."
That data brought CCHHS and LAF to the New City and East Garfield Park neighborhoods in Chicago. These neighborhoods are extremely high needs, with 40 percent of residents living below the federal poverty line and 45 percent unemployed.
READ MORE: What Providers Should Know to Improve Patient Access to Healthcare
The partners then conducted focus groups and community health conversations to determine which social issues they wanted to tackle.
What were the health issues these neighborhoods faced? What were their social issues? Setrini and Chan wanted to design a program that could meet the specific needs of those individual communities.
The pair also had to look introspectively and at city public works groups, determining whether the entities had the resources to meet those community needs.
"We came out of that planning period looking at the areas where LAF had expertise and looking at the areas where the client community and the patient communities are saying they have need," Setrini explained. "We also looked at the strategic plans for CCHHS, as well as a plan for Chicago Department of Public Health called Healthy Chicago 2.0, and seeing where there were areas of alignment."
Setrini and Chan did identify areas of alignment amongst all stakeholders, leading them to address issues with public benefits and income stability.
Through their relationship with CCHHS, LAF began identifying patients who might be eligible for public benefits. CCHHS' care coordination team works as health navigators, alerting and working with LAF when a patient presents with pressing benefits and social needs.
For example, LAF and CCHHS have been working to meet needs for patients with disabilities.
"Initial disability applications are a hugely bureaucratic process," Setrini said. "It takes time and some of these folks are really ill or incapacitated, so it's very difficult for them to navigate the process."
CCHHS identifies the individuals who might be eligible for disability public benefits and refers those patients to LAF. From there, LAF attorneys work on the case and help complete initial applications and achieve those benefits for patients.
This has taken considerable training on the part of CCHHS, Chan explained. Care coordinators had to learn how to identify which patients would benefit from LAF's services to ensure they were only referring appropriate patients and not allowing anyone to fall through the cracks.
Chan employed the acronym iHELP, which helps coordinators flag patients for referrals.
iHELP refers to the social determinants of health relevant to the partnership's focus on benefits and income stability. Income and insurance, housing and utilities, employment and education, legal and immigration status, and personal and family stability are all integral to tackling those social needs, Chan explained.
"It stands for the different areas for common health learning legalese that may appear among our patients as our care coordinators are working with them and helping them go through various assessments," Chan said. "These are areas where if there is an issue that's flagged, it could be a good referral to LAF for some legal assessment."
From there, the pieces should start to fall into place, Setrini stated.
"If we're able to get this person on benefits, that will stabilize their income, which can lead to stabilized housing," she explained. "That leads to things like more and better cooperation with coming to appointments, taking medications, all of that kind of thing."
Creating such a detailed program is no easy feat, the pair maintained. The program required a lot of coordination for data exchange and security provisions, Chan said.
And between all of those logistics came ensuring that the program truly met the needs of the community.
"We realize that we can't handle all legal needs that come across or that might appear," Chan conceded. "We focus on those areas that do have a potential tie to somebody's health, whether it's the health outcome or treatments, or adherence to treatment, or completion with appointments."
Conferring with the community and understanding how their needs aligned with CCHHS and LAF's resources was at the core of this project.
"Including community voice in the practice of creating a partnership like this or creating programming like this was really key," Setrini asserted. "It strengthens the relationship that we have with different community organizations because there is a reality of addressing real problems the community faces with the solutions that are coming from the community."
Going forward, CCHHS and LAF are working to scale their program across a larger population. CCHHS is wants to aggregate outcomes data, both pertaining to health outcomes and outcomes of the legal process. One doctor from the organization is also developing a follow-up process with patients.
The program is also under constant evolution, Chan explained. As LAF and CCHHS continues to work as a team, they are able to create better mechanisms for patient referral and participation in the medical legal partnership.
"This project is unique for our health system because it provides us with a direct feedback loop from the entity that we're referring our patients to," Chan concluded. "Because we talk to LAF so frequently, we're able to make some small tweaks here and there to try to make sure that we are doing things right the next time around, and improving the process."