How Telehealth Training Programs Drive Positive Patient Experience
At the University of San Diego, a telehealth training program prepares nurses to bring a positive patient experience with the tool.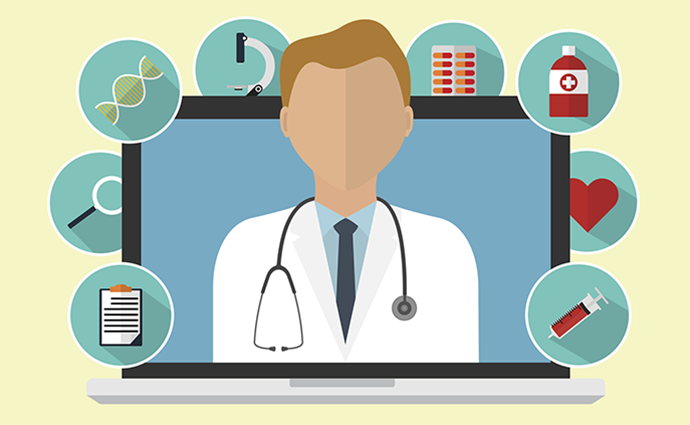 Source: Thinkstock
- With the growing popularity of remote patient care, telehealth training may be the new frontier. As more provider deliver care using telehealth, they need to learn how to reframe their patient-provider communication skills to drive patient satisfaction with the tool.
As of 2017, nearly three-quarters (71 percent) of providers were using telehealth, according to statistics from HIMSS Analytics. Using telehealth has helped heal some of healthcare's greatest ills by delivering before-school care to children or helping busy moms or bringing care to seriously underserved rural areas.
But with telehealth comes numerous challenges, not least of which include creating a positive patient experience. With a computer screen separating the patient and provider, key elements of the patient-provider relationship often get lost in translation. Healthcare organizations are looking to address that problem by creating telehealth training programs.
Telehealth training isn't exactly a new concept. As the technology came onto the scene, it was natural that medical professionals would undergo some sort of education about the technology. At the national forefront of these efforts has been the National Organization of Nurse Practitioner Faculty (NONPF), which has most recently called on medical schools and nurse practitioner graduate programs to create telehealth curricula for their students.
Answering that call is the University of San Diego (USD) Hahn School of Nursing and Health Science, where master's degree students can receive instruction on how to use telehealth to tend to patients' medical needs while building a meaningful relationship.
READ MORE: How mHealth Technology Supports Patient Engagement Strategies
The USD program includes a specialty track in healthcare informatics that encompasses remote patient monitoring, telemedicine, and telenursing care, according to the program's director Jonathan Mack, PhD, RN, NP.
"All of those students are trained in the use of telehealth technology," Mack told PatientEngagementHIT.com during a recent interview. "This is not something new for us, we've been doing this for several years, local partners have been using it for some time but the writing was on the wall two years ago, especially when California changed their regulations and we're finding more advanced practice nurses are filling these telehealth roles."
The USD telehealth training course uses simulation tools to immerse future users in the care experience. After brief technology training sessions, nurses interact with "simulation patients," or actors, to hone their communication skills.
"We teach clinician students about physical appearance on camera," Mack said. "We teach them about physical cues because a lot is lost in a telehealth visit that isn't lost when you are in person. However, we can generally mirror in-person interactions if we teach clinicians the proper behaviors, such as looking into the camera, not taking notes, making sure that you're dressed appropriately, and ensuring the environment is appropriate so there aren't distractors for the patient."
For example, a lot of clinicians conduct telehealth visits from their own homes. They may not think about the background environment for conducting the telehealth visit, but the truth is that digital environment is just as important to patient satisfaction as the hospital environment.
READ MORE: How to Drive Provider Buy-In for Telehealth, Virtual Care Tools
Providers also need to ensure their telehealth environment has all of the tools they need, Mack added.
"We now have the ability to do very limited physical exams through the use of peripheral technology," he said. "We can actually look in the back of someone's throat, we can look in their ears, listen to their heart and lung sounds as well as their abdominal sounds. That pushes the capability of the visit."
USD trains providers to be fully stocked of these additional remote care tools, as well as trains them in how to use them. Although the technology training is less extensive than the interpersonal lessons USD reviews, it is still essential providers know how to use Blue Tooth and other technologies to allow for a more seamless care encounter.
"They need to be able to be comfortable with the visit and be able to perform an exam or an assessment via video screen," Mack said. "It's a little bit different but not terribly difficult to train them. They need to be able to conduct a visit in a simulated environment first before you then put them out in the field for their actual visits."
Once nurses have been trained in using all of the telehealth tools, USD focuses on patient interaction training. A positive patient-provider relationship is integral to any care visit, but driving positive interactions might look a little different via telehealth, Mack explained.
READ MORE: Telehealth Closes Patient Care Access Gaps in Rural Mississippi
"Telehealth visits may not be any longer than ten to fifteen minutes. So, establishing a rapport immediately is important," he asserted. "People tend to look down at the screen during video calls, so that translates to someone on the other side as not maintaining eye contact. The clinician needs to be trained to listen and look into the camera because that's what's going to appear on the screen for the patient as though the provider is looking at the patient."
Providers need to balance that "eye contact" with real eye contact with the patient to read patient body language and reactions to certain care recommendations. Additionally, providers need to refrain from EHR documentation during the visit, if not for giving patients their undivided attention then for reducing unnecessary sound during the video visit.
For Mack, training nursing and nurse practitioner staff in telehealth use only made sense. Nurses are slated to be the primary clinician telehealth users in coming years, as organizations continue to tap nurses to fill in care gaps.
And as telehealth continues to present an effective model for delivering patient care, its use will likely become more widespread, Mack noted.
"Telehealth has the capacity to expand care without expanding the cost of care," he stated. "To see a patient in a clinic requires a lot of labor: someone to check the patient in, schedule the visit, take the vital signs, room the patient, then you've got the clinician, then the nurse has to come in and do the discharge, somebody to draw the blood for example."
That's a lot of expense bundled into one patient visit, he added, especially when most of those costs could have been reduced using telehealth.
Telehealth is also convenient for the patient, who has the tools to access telehealth in their smartphone or computer. And because USD uses vendor SnapMD for as their telehealth provider, it comes at no cost to the patient.
Those factors, coupled with recent proposals from CMS to reimburse for more remote patient monitoring and telehealth use, will spur the widespread use of the technology.
"That's going to be a critical driver for not only the training but the interest by doctors and clinics to roll out telehealth," Mack asserted. "It'll now support the usage and again, think about the cost savings."
This greater adoption of telehealth will likely spur more refined approaches to technology training in different facilities across the country, Mack added. Currently, USD is one of the only telehealth labs in the state of California, but if more providers integrate telehealth into their workflows, those training schools will catch on, he predicted.
"It's going to be incumbent on schools of nursing and schools of medicine," Mack said. "The National Organization for Nurse Practitioner Faculty published their recommendation that all nurse practitioners are trained on telehealth so that now requires schools of nursing with nurse practitioner programs to figure out how to develop this."
"Telehealth isn't future technology, it's here," Mack concluded. "It's already being used by health agencies across the United States and it's expanding rapidly. In a few years, we'll think of telehealth as part of what we do in normal care, not something that's new and emerging as we do today."