Supporting Frontline Healthcare Workers in Clinician Shortage
Hiring frontline healthcare workers could enhance care quality, support the patient experience, and supplement providers during the growing clinician shortage.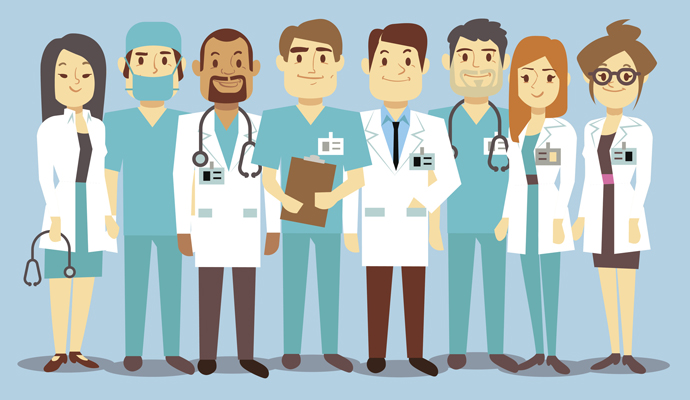 Source: Thinkstock
- Healthcare is facing an impending patient care access crisis as clinician shortage gaps continue to widen. But as medical experts work to address the growing clinician shortage issue, they must also consider shortages in frontline healthcare workers who supplement the work of medical providers.
With the healthcare industry facing a clinician shortage of between 42,600 and 121,300 physicians by the end of the next decade, some experts have asserted that non-physicians are key to driving better patient access to quality care.
This can include frontline healthcare workers, such as medical assistants, nursing assistants, or patient navigators. These workers usually hold an Associate's degree, and are tasked with administrative duties and in some cases low-skill medical procedures.
But hiring in these fields will require a concerted effort, as organizations have for too long allowed the hiring process for frontline workers to fall by the wayside, according to Kelly Aiken, the vide president of programs at the National Fund for Workforce Solutions.
"We are seeing shortages for medical assistants, for certified nursing assistants, patient care technicians," explained Aiken, who is also the director of the Fund's healthcare initiative CareerSTAT. "Healthcare providers are beginning to take a much more critical look at what it means to hire and retain the frontline. They have oftentimes not invested the same amount of resources in retention in particular."
READ MORE: Physician Shortage Drives Wait Times, Harms Patient Care Access
But that trend is changing, Aiken explained, as organizations see higher turnover for all sorts of medical professionals. As provider burnout runs rampant, more organizations are recognizing the benefit of tapping frontline healthcare workers to take on some administrative responsibility.
"Where we see physician burnout because of too much administrative paperwork, we see organizations rethinking the roles of medical assistants, for example," Aiken said. "Organizations are providing career pathways such that there are more tiers within the medical assistant career internally within an organization."
Developing this tier structure is important, because it creates a pathway for wage and skill progression. This will foster a more built-out medical support team that can delegate their responsibilities in a logical and efficient manner.
After all, clinician satisfaction can often be attributable to the quality of their care teams. When organizations create a more developed career path for its frontline workers, it can build quality in care teams.
"When that frontline is better trained and has career advancement opportunities within the organization, there is a direct correlation to improved patient care, and improved patient satisfaction," Aiken pointed out.
READ MORE: Understanding Physician Shortage Issues, Patient Care Access
The rise of community health workers is an example of the success organizations have had in supporting their frontline workers. As medical professionals address the social determinants of health, community health workers have become integral healthcare partners.
These workers are in charge of connecting the patient with community resources and supports that can help them overcome the social barriers hindering health. Community health workers connect patients with transportation services, or go grocery shopping with the patient to help her find low-cost, healthy meal options.
Healthcare organizations are recognizing community health workers as a key partner in patient care and building out the career path for these individuals to remarkable success, Aiken noted.
"We're seeing an uptick in organizations using community health workers, and the role itself has been codified by the fact that the Department of Labor now tracks community health workers," she reported. "There is some movement on reimbursement for community worker services. Increasingly, we're seeing providers wanting to create more structure and defined competencies for what a community health worker is and does."
Healthcare organizations should follow this model for other frontline healthcare worker careers, Aiken recommended.
READ MORE: What Providers Should Know to Improve Patient Access to Healthcare
Of course, investing in the frontline workforce has its challenges, Aiken conceded. Healthcare organizations are always facing a litany of conflicting investment priorities, and too often workforce investments get the shaft.
"If it is there's a merger, which are happening left and right across the industry, that always takes priority," Aiken said. "If there are cost-cutting moves, measures that need to be put into place, that also prevents ongoing sustained investment."
And within the human resources department, hiring structure can hinder organizational investments in frontline workers.
Pushes to hire frontline workers often fall under a hospital grant, Aiken said. When a hospital receives such a grant, it does deploy successful strategies for recruiting and retaining frontline workers.
"Once that grant funding goes away, oftentimes the program goes away too," Aiken explained.
"If HR departments keep these efforts as programs, they will remain siloed, and the chances of sustaining them become minimal as funding dissipates and leadership changes," she continued. "But if departments can work to completely integrate a philosophy of investing in the frontline workforce, that is the best chance for sustainability."
Organizations may also struggle to find applicants for these positions as they face competition for qualified employees. The influx of aging Baby Boomers will lead to higher demand for all medical professionals, including frontline healthcare workers.
And with frontline workers fielding opportunities in other industries such as hospitality and retail, healthcare organizations will continue to see challenges.
This means healthcare organizations will need to look in non-traditional places to recruit frontline workers.
"There's not a ready group of individuals lining up to apply for frontline positions," Aiken pointed out. "There is a movement afoot within the industry to broaden the types of pipelines that they have accessible to them. That may be considering individuals who might have criminal records, individuals who are long-term unemployed, individuals who would not traditionally make it through the first cut for a recruiter."
But while HR leaders and other hospital workers are beginning to see this, Aiken said little can be done until hospital leadership is on board.
"One of the biggest barriers is that senior leadership still does not yet see the value of their frontline workforce in providing that holistic team-based care that they want to see happen throughout their organizations," she said.
Hospitals and health systems truly do have a nearly unmanageable onslaught of priorities that need addressing to stay afloat, Aiken acknowledged. However, better investment in frontline workers and spreading resources throughout the organization is the best path toward addressing all of those issues.
"It is really about spreading out the investments," she concluded. "When you have a robust holistic team that is capable of working to the top of their license or certification and delivering the best care they can, ultimately that is what's best for patients and for communities. As an industry, it's time to recognize the value of investing in the frontline, as there are increasing shortages."