Younger Patient Preferences Reveal Shift to Retail, Virtual Care
The survey revealed that millennial and gen Z patient preferences point to retail clinics that integrate technology and are convenient.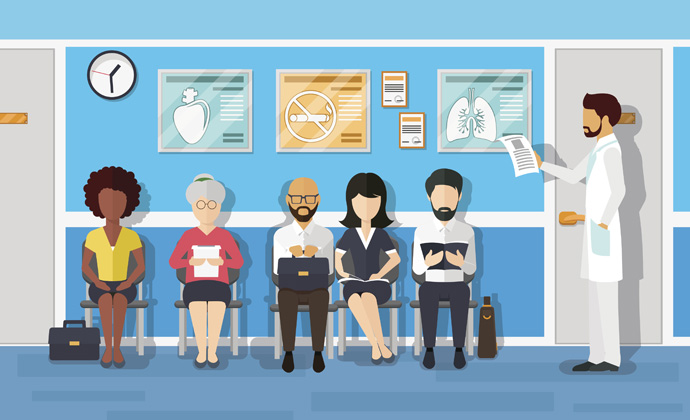 Source: Thinkstock
- Generational differences in patient preferences and satisfaction are marking a transition toward more non-traditional care models, such as retail clinics, virtual care, and other digital engagement tools, according to a recent Accenture survey.
The survey of over 2,000 adult patients revealed significant differences in patient satisfaction patterns between baby boomer patients (defined as ages 55 to 73 in 2019), millennials (ages 22 to 38 in 2019), and generation Z patients (ages 18 to 21 in 2019).
Millennial and gen Z patients have more gripes with traditional healthcare models. Sixteen percent of millennial patients reported low patient satisfaction with wait times, 13 percent with location or channel of care, 12 percent with effectiveness of care, and 10 percent with whether their doctor prescribed a medication they had expected.
These sentiments run counter to those of baby boomer patients. Far fewer of these patients were dissatisfied in the above-mentioned areas, with 6 percent, 4 percent, 4 percent, and 5 percent of patients reporting dissatisfaction, respectively.
Gen Z patients were even more dissatisfied than their millennial peers. Thirty-two percent were dissatisfied with care effectiveness and 24 percent with medications prescribed or not prescribed. About one-quarter of gen Z patients also reported dissatisfaction with the location or channel of care, cost of treatments, and responsiveness of care teams to follow-up questions.
READ MORE: Retail Chain Deals to Improve Patient Care Access, Care Coordination
These differing patient preferences are marking the shift toward new, non-traditional treatment models, the survey authors noted. After all, millennials are beginning to represent the largest group of healthcare consumers. Their wills are likely to influence healthcare delivery models now and in years to come, the survey authors posited.
For example, millennial and gen Z patients are foregoing their primary care providers. Fifty-five percent of gen Z patients and 67 percent of millennials said they have a primary care provider, compared to a whopping 84 percent of baby boomers who visit the PCP.
Instead, millennials are replacing primary care with retail clinics (41 percent said they have visited) and virtual care (39 percent said they have utilized).
In fact, these alternative treatment sites are becoming more popular across all age groups, the survey showed. Twenty-nine percent of all patients have used virtual care, compared to only 21 percent of those who said the same in 2017.
Furthermore, 47 percent of all respondents said they have used a walk-in or retail clinic.
READ MORE: More Urgent Care, Retail Clinics Offer Low-Cost Patient Care Access
These types of clinics are becoming popular among patients who have basic health needs. Sixty-five percent of respondents use retail or virtual visits for the common cold compared to 48 percent of those who have used a traditional clinic for the same need.
Retail clinics are popular for receiving a flu shot, with 62 percent of patients saying they have received their immunization in a retail clinic and 54 percent saying they have received one in a primary care office.
Finally, 59 percent of patients said they have had their vitals checked in a retail clinic and 54 percent said they have had the check done in a traditional primary care office.
Patients are also using digital self-management tools. Fifty-one percent of all respondents said they use a wearable or digital app to help them manage their wellness. Fifty-three percent use virtual nurses to monitor their health conditions, medications, and other therapies.
These trends reflect younger patients' propensity to engage with providers with a strong digital footprint. Forty-four percent of millennials prioritize a provider who allows digital patient data access, compared to 29 percent of baby boomers.
READ MORE: What are the Pros and Cons of Retail, Urgent Care Clinics?
Forty-two percent of millennials prefer doctors with digital prescription refill, compared to 30 percent of baby boomers. Online appointment scheduling and management is also preferable to 40 percent of millennials compared to only 19 percent of baby boomers.
These results certainly illustrate a changing tide in healthcare, the survey authors said. But healthcare professionals must be mindful of all patient preferences, regardless of their generation. Although millennials are quickly representing the biggest cohort of healthcare consumers, baby boomers still visit the doctor more often as they age into the Medicare bracket and their health needs grow.
It may be beneficial to consider the different healthcare models available to patients and maintain many of them for the time being. Providers who do so will be able to meet patients where they are, increasing the likelihood patients access necessary primary or preventive care and ultimately keeping patients healthier longer.
"As more patients take control of their own healthcare, provider organizations must offer meaningful choices that fulfill the needs of all generational groups," Kaveh Safavi, MD, JD, head of Accenture's global Health practice, said in a statement. "Providers and payers who stay one step ahead of the shifts and deliver what patients are looking for will be the ones to earn loyalty, navigate disruption and be strongly positioned as the future unfolds."