4 Key Tips to Receive a 5 Star Online Provider Rating
Clinicians can earn a high online provider rating by using strong communication and interpersonal skills.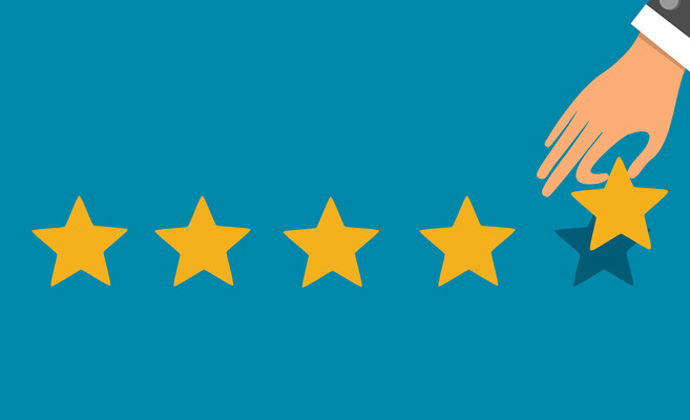 Source: Thinkstock
- Nearly one-quarter (23 percent) of primary care providers have received a one-star rating on Vitals, displaying major patient satisfaction pitfalls in this area of medicine, according to a report from the online provider rating website.
Although the report also showed that 40 percent of PCPs received a five-star rating, there is still significant room to grow. One-quarter is a large proportion, the report suggests, and ideally all providers would be getting top ratings from their patients.
But high patient satisfaction scores and five-star ratings can be elusive. Providers rarely go into a patient encounter trying to upset their patient, but clinicians can still struggle to deliver the elements of care that are important to patients.
Below, PatientEngagementHIT.com discusses common factors contributing to a five-star provider rating.
Communicate clearly, empathetically
Foremost, a positive rapport between patient and provider will contribute to a high patient satisfaction score or online rating. The patient-provider relationship repeatedly emerges as a top factor influencing patient satisfaction.
READ MORE: How Providers Can Address Online Physician Reviews, Social Media
In a 2017 study, researchers from Dana Farber Cancer Institute looked at the hospital's patient complaints to understand other aspects of the patient experience. Through an analysis of patient complaints, the researchers found that complaints regarding provider interpersonal relationships far outweighed patient safety and administrative complaints.
Eighteen percent of complaints related to humanness and caring, 15 percent related to communication, and 5 percent related to staff dialogue.
"These attributes are a reminder that patients need comprehensive and correct information but also expect that it be delivered with care, respect, and sensitivity," the researchers reported. "The records we reviewed confirmed that even one negative, unkind, or disrespectful encounter can fundamentally alter a patient's perception of care."
A separate study from 2016 found that clinician empathy is a distinguishing factor in the patient experience. After administering a patient satisfaction, health literacy, and outcomes assessment to 112 patients receiving hand surgery at Massachusetts General Hospital, researchers determined that 65 percent of patient satisfaction is determined by clinician empathy.
Anecdotally, it makes sense that clinician empathy and positive rapport would be key elements to a good patient satisfaction score. If a patient had trouble making an appointment, had to wait a long time in the waiting room, or didn't like her hospital food, providers can mitigate those dissatisfiers with good patient-provider communication, according to Press Ganey CMO Thomas Lee, MD.
READ MORE: Physician Review Sites List Inconsistent Patient Satisfaction
"When we look at the factors that drive patients' confidence in their care, it's the 'how' factors that matter," explained Lee, who is also a primary care doctor at Brigham and Women's Hospital. "Did there seem to be teamwork? Was there compassion? Was there good communication? Our analysis suggests that if we on the provider side get the 'how' right, patients will cut us some slack on what happens in the hospital."
That is not to say that other elements of hospital and clinician quality are not important. However, ensuring a positive patient experience through basic human decency and a good relationship with patients will certainly go a long way during patient satisfaction assessments.
Strive for strong care coordination
Care coordination has also emerged as a significant driver for patient satisfaction and a positive patient experience. Clear appearance of healthcare teamwork and communication with the patient goes a long way in involving patients in their own care and making patients feel safe.
"There are so many people involved in care today," said Press Ganey's Lee. "Literally dozens of people are involved in your care when you're admitted for even routine things. A typical admission for heart failure involves more than 60 people, for example."
"It's just plain frightening," Lee added, acknowledging that hearing different messages from different care team members can be stressful. "There's so many more people involved in care today, so the challenge of actually functioning like a team is a huge priority. And it's not going to get taken on without making it an explicit issue with providers."
READ MORE: Online Physician Reviews Stressful for Docs, Useful for Patients
Appearance of teamwork and care coordination outweighed any other indicator of patient satisfaction, a recent Press Ganey report showed. While luxury amenities are nice, patients would forgo their fancy meal or Sunday paper delivery for a healthcare team that worked together and were on the same page.
Supporting teamwork is one way to reduce patient suffering, according to Deidre Mylod, PhD, Executive Director of the Institute for Innovation and Senior Vice President of Research and Analytics at Press Ganey. Reducing patient suffering is a part of Mylod's campaign to reframe patient satisfaction, which calls for emphasizing empathy over "making patients happy."
A big part of this is being attentive, Mylod said in an interview with PatientEngagementHIT.com. Working with other care team members or checking in with the patient will help clinicians decide what patients need next. Attentiveness will also ensure patients do not suffer hospital-related harms.
Foster patient safety, hold providers accountable
High quality care and an emphasis on patient safety should be a given in healthcare. Clinicians should always strive to deliver the best care possible to patients, ensuring a speedy and painless recovery period.
However, human error is inevitable, and in 2015 there were nearly 115,000 hospital acquired infections and patient safety events, according to the Agency for Healthcare Research and Quality (AHRQ). Although this was a 21 percent decrease since 2010, there is still room for improvement.
Healthcare organizations will not eliminate patient safety events overnight, but they can still mitigate patient satisfaction surrounding these events, research has shown.
A study published in 2017 showed that when patients experience a hospital related harm, their primary gripe is not because of the harm, but because of lack of communication about the incident. Providers who do not discuss the issue with patients or adequately address how they will prevent future incidents do not usually receive high patient satisfaction ratings, the analysis found.
Communication-and-resolution programs (CRPs) are effective in improving patient satisfaction, the researchers found. Eighteen of 30 patients and families who received a CRP following a patient safety event expressed general satisfaction with their experience and continued to receive care from the facility.
"Satisfaction was highest when communications were empathetic and non-adversarial, including compensation negotiations," the researchers found. "Patients and families expressed a strong need to be heard and expected the attending physician to listen without interrupting during conversations about the event."
Offer desirable technology solutions
Society is becoming increasingly fueled by technology, with more people than ever participating in technology in some way. Eighty-eight percent of Americans use the internet, according to a report from Pew Research, with another 77 percent owning a smartphone.
As a result, more patients are interacting with their health through digital means. Patient portal access is an important regulatory requirement, while mHealth apps and remote monitoring systems abound.
Not all connected health technology is created equal, however. Patients prefer certain tools over others, and it is important for healthcare organizations to understand which technology solutions are most desirable.
Patient portals are extremely popular with patients, but healthcare organizations should not offer the portal just for the sake of having one.
Instead, organizations need to zero in on the functions that are most important to patients, such as secure messaging, medication requests, online appointment scheduling, and access to clinician notes and EHR data. Offering those functions will help spark more active patient portal use.
Patients are also demanding technologies that make their healthcare experiences more akin to retail experiences. Paperless billing and card-on-file solutions make it easier for patients to fulfill patient financial responsibility.
Eighty percent of patients want online, paperless bill payment options, according to a 2017 InstaMed survey. Sixty-eight percent of patients also reported wanting electronic bill pay options within the clinician practice.
The survey revealed that only 20 percent of patients have those electronic options, and 86 percent receive a paper bill in the mail. This presents a major opportunity for clinician offices to streamline the patient and administrative process and improve the patient experience.
The road to a five-star rating on a clinician review website is not clear-cut. There will always be outliers, or patients whose needs are difficult to meet within the parameters in healthcare. Additionally, certain elements of patient satisfaction will be more important than others.
Ultimately, it will be important for providers to assess what is important to their patients, and understand how to weave those factors into the clinical experience.