4 Steps to Reduce ED Overcrowding, Boost Patient Care Access
ED overcrowding can have adverse health effects because of delayed patient care access.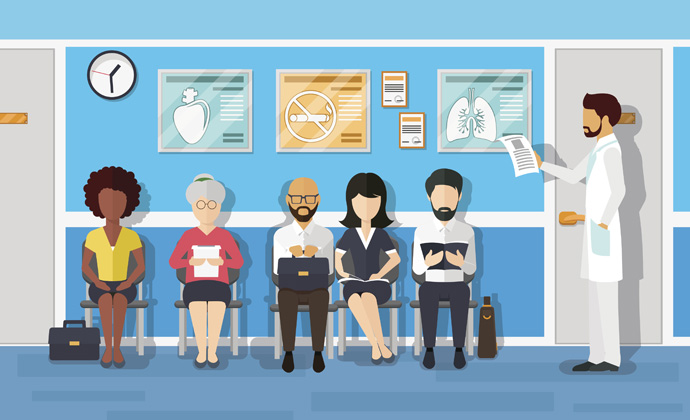 Source: Thinkstock
- Researchers from the Oregon Health & Science University (OHSU) have developed a set of guidelines for reducing emergency department overcrowding and wait times, helping to improve the patient experience and eliminate delayed patient care access.
ED overcrowding can be a blight on patient satisfaction, and lead to lower overall patient outcomes because of limited or delayed patient access to care, the researchers said. And yet long ED wait times are prevalent across the country.
Of the 130.4 million patients visiting an ED each year, only about 29 percent see short wait times, according to CDC statistics. These conditions can lead to limited patient care access or delay treatment for patients, the OHSU researchers said.
"Emergency department crowding can be dangerous for patients," senior author Benjamin Sun, MD, a professor of emergency medicine in the OHSU School of Medicine, said in a public statement. "We know, for example, that emergency department crowding can lead to delays in pain medications for patients with broken bones, as well as delays in antibiotics for patients with pneumonia. We know the risk of death is higher when the emergency department is more crowded than when it's less crowded."
Sun and the research team looked at data from over 2,500 hospitals reporting overcrowding data to CMS and created three performance categories: high performers, low performers, and high and improving performers.
The team refined their study to four hospitals in each performance category and interviewed nursing staff, ED directors, directors of inpatient services, chief medical officers, and other executive officers at each hospital. These interviews yielded four common themes amongst high-performing hospitals.
High-performing EDs have the support and involvement of their executive leadership. Executives are important changemakers in a hospital, can direct culture shifts, and allocate funds to large projects. Support from executive leaders helps drive more improvements in the ED by setting the tone for change.
EDs with low patient wait times also drive hospital care coordination, linking different departments into a cohesive team. This includes all members of hospital staff, not just clinicians. For example, high-performing EDs better engage staff during bed turnover, doing certain duties such as clean-up in parallel with other turnover tasks.
These teams also leverage data analytics to direct and adjust workflows in real time. Predictive analytics help ED teams predict high traffic times and adjust staffing accordingly. In low-performing hospitals, staff use data retrospectively, which is not always actionable, the researchers said.
Tying all of these concepts together is high staff accountability.
"If boarding in the ED exceeded the acceptable limit, the chief medical officer would physically get out of the office, go onto the ward floors, and start reviewing charts and asking, 'What can we do to fix the problem?'" Sun said in a statement.
Hospital EDs that can incorporate these strategies into their ED best practices may see lower patient wait times, which can lead to a better overall culture of health, Sun said. Patients experiencing ED overcrowding usually have lower satisfaction scores and face higher risk for health complications or even mortality.
In a previous study, Sun found proof that long ED wait times can have adverse health effects and even lead to mortality in patients. The 2012 study looked at patient boarding times, which are defined as the length of time a patient must wait between arriving in the ED and getting a bed in the ED.
Sun looked at nearly one million ED visits across the country and found that patients visiting the ED on high traffic days faced a five percent increased risk for ED mortality.
A similar study published in 2011 also found that mortality increased with ED boarding time. Patients with a boarding time under two hours saw a 2.5 percent mortality risk, versus a 4.5 percent mortality risk when patients waited more than 12 hours.
Running that high a mortality risk was a rare occurrence in this study. Fifty percent of patients were seen in under two hours, and only six percent had to wait longer than 12 hours.
Those odds notwithstanding, Sun and his team argued that reducing ED wait times is an important endeavor and sought to determine the common themes amongst hospitals that have successfully lowered their ED wait times. Most hospitals agree, Sun found. The majority he and his team investigated listed lowering ED wait times as a high organizational priority.
Healthcare organizations must reorganize their leadership, staffing, and data use systems to meet those priorities and see improved and timelier patient treatment access.