Patient Satisfaction and HCAHPS: What It Means for Providers
As the healthcare industry shifts toward patient-centered models, providers will need to fully understand patient satisfaction measures and how they affect their practices.
Source: Think Stock
What is patient satisfaction?
Patient satisfaction is the extent to which patients are happy with their healthcare, both inside and outside of the doctor's office. A measure of care quality, patient satisfaction gives providers insights into various aspects of medicine, including the effectiveness of their care and their level of empathy.
Satisfaction, while always an important factor when delivering any kind of a service, has recently gained notoriety in the healthcare space. In the wake of patient-centered healthcare reform, patients are demanding a bigger claim in their healthcare, and expect a certain level of service from their providers.
Healthcare organizations are adjusting their strategic plans accordingly.
In Vocera's 2016 Rise of the Chief Experience Officer report, 64 percent of healthcare professionals state that their organizations value patient satisfaction just as much as they do patient safety and clinical workflow improvements.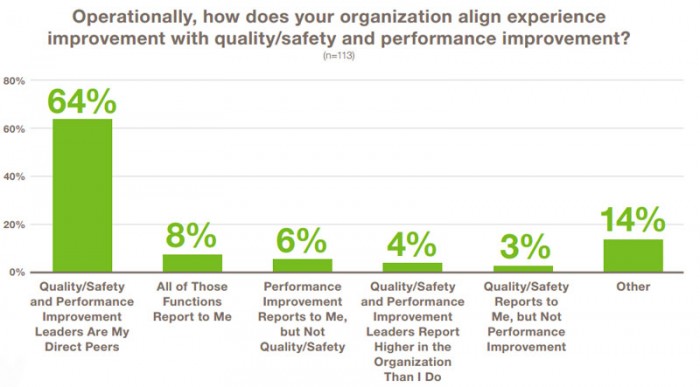 Source: Vocera
This isn't entirely surprising. Since patients have assumed more of a consumer role in their own healthcare, hospitals and other organizations have needed to ensure that their patients were happy with the care that they received and how they were treated as people.
Supporting patient satisfaction can have a positive effect on several parts of the healthcare organization, including improving patient retention rates, securing a positive local reputation, and preventing possible malpractice lawsuits, says the National Center for Biotechnology Information.
As the industry continues to move in this patient-centered direction, there is hardly any hospital affording to skrimp on this kind of engagement, making it vital that provider understand the nuances of an effective satisfaction strategy.
Dig Deeper:
How is patient satisfaction measured?
While patient satisfaction may be measured by any number of methods, research shows that the most common is the Hospital Consumer Assessment of Healthcare Providers and Systems (HCAHPS) survey.
Source: New England Journal of Medicine
This survey, backed by the Centers for Medicare & Medicaid Services, gleans insights into hospital quality and patient satisfaction through 27 questions regarding patients' most recent hospital stay.
HCAHPS surveys are comprised of 18 questions addressing patients' hospital experiences, four items to direct patients to certain questions, three questions to compensate for varying patient demographics, and two questions to address Congress-mandated hospital quality reports.
Many healthcare facilities also issue their own patient satisfaction surveys, or look at less official metrics, such as patient retention. Because factors like patient retention are directly affected by how happy a patient is with her care, they are effective lenses through which hospital leaders can better understand patient satisfaction.
What factors affect patient satisfaction?
Top of mind for many a provider is understanding what makes a patient tick. Being able to determine what does and does not affect patient satisfaction is an integral part of making satisfaction a priority in one's care delivery.
That task becomes enormous when one remembers that everyone is different, and we all have different preferences when it comes to our care. For instance, millennial patients typically prefer to work in tandem with their physicians in their care, while older patients like being directed by their physicians.
However, there are a few overarching patterns emerging that may help direct providers' patient satisfaction efforts.
These trends aren't necessarily what one might expect.
"It's interesting, because I think that the immediate reaction is that patient loyalty is based off things like wait time," notes Joe Greskoviak, president and chief operating officer at Press Ganey. "What we have found is that that's not necessarily the case, and that there are drivers of patient loyalty that are very actionable."
Overall, Greskoviak says patient satisfaction boils down to three points: communication, provider empathy, and care coordination.
"What we find is that loyalty is primarily being driven by number one, communication," he said. "There's a difference between waiting and not knowing why you're waiting."
"Empathy," Greskoviak said, continuing to list the factors of patient loyalty. "Patients want to understand that we actually care for them. So our ability to be empathetic in our delivery of care is incredibly important to patients. And the last one is coordination of care. Patients want us to be working as teams."
Dig Deeper:
How does technology help boost patient satisfaction?
While there is much provider responsibility associated with boosting patient satisfaction, they do not have to entirely go it alone. They can employ the help of health technology to improve efficiency and implement patient satisfaction strategies.
For instance, providers can robustly utilize the patient portal. Research shows that patients like to use the portal to stay on top of their healthcare, and to build better relationships with their providers. If a doctor is effective in using this tool to connect with her patient, she will then see that return through better patient loyalty.
These communications through the portal boil down to the provider communicating a commitment to patient care and letting patients know they can trust her, says athenaResearch's manager David Clain.
"If you are a patient at primary care practice or you have some cardiac issue and you have an ongoing relationship with a cardiologist, I think it's really helpful to be able to continue the conversation outside of the office," Clain explains. "And once you've done that a couple of times, you feel that connection to your provider, you have a sense that they are committed to your health and to ensure that you have good outcomes."
Health IT can also play a role in improving hospital efficiencies, which can influence patient satisfaction.
While satisfaction doesn't rest solely on wait times, patients do want to know that they are being cared for as efficiently as possible, and technology can help with that.
At Western Reserve Hospital, for instance, their technology suite helped them deliver emergency department care more efficiently, helping them to boost their patient satisfaction scores into the 90th percentile.
According to the hospital's CNO Carrie Gallo, the streamlined clinical workflow made the emergency department appear far more organized, at least from the patient perspective. The side effect of this efficiency was those patients being more satisfied.
"Right out of the gate from our satisfaction at arrival, which we had an opportunity to improve on, right then from the patient and the EMS perspective, they're seeing a very seamless move- to the room," Gallo says.
"No stopping, no delay, no waiting on the stretcher, no family waiting. It looks very, very seamless and we look very organized. So from that perspective, right out of the gate, patient arrival was one of the opportunities around our satisfaction scores that was a lower score."
Dig Deeper:
It's also about the personal touches
While health technology can do a lot for improving patient satisfaction, providers need to remember that it starts with them.
Research shows that despite the technical quality of care delivered, provider empathy is the main teller of whether a patient will or will not be satisfied. Patients also perceive empathic care as technically better than less personal care.
Even doing simple things like increasing eye contact with patients will boost satisfaction and engagement. In a recent survey published in the New England Journal of Medicine, 59 percent of patients reported that face-to-face time with their providers increased their engagement and satisfaction.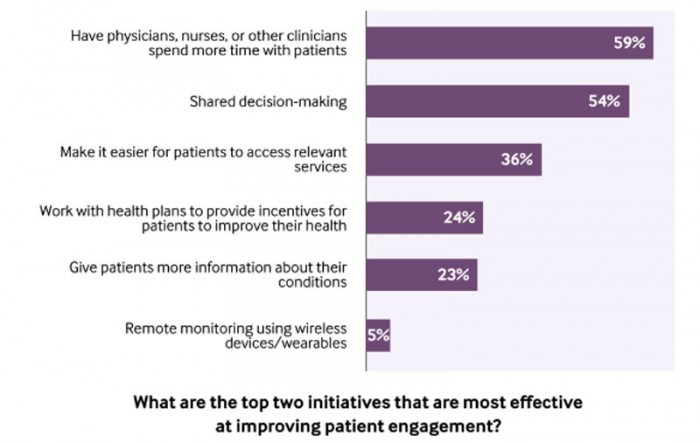 Source: New England Journal of Medicine
Another study, published in JAMA Internal Medicine, shows that patients reported more satisfaction when providers took a minute to look away from their computers during visits. A total of 48 percent of patients in an encounter with high computer usage reported high satisfaction scores, while 81 percent of patients in an encounter with low computer usage reported the same scores.
"High computer use by clinicians in safety-net clinics was associated with lower patient satisfaction and observable communication differences," the reported stated. "Although social rapport building can build trust and satisfaction, concurrent computer use may inhibit authentic engagement, and multitasking clinicians may miss openings for deeper connection with their patients."
While it takes a careful balance between utilizing health IT and adding personal connection to improve care quality, it is important that providers identify that balance. Patient-centered healthcare reform is driving the patient more and more into the realm of the consumer, making it imperative that providers achieve high levels of patient satisfaction.
Dig Deeper:
This article was originally published on May 24, 2016.
Sign up to receive our newsletter
and access our resources