What are the Pros and Cons of Retail, Urgent Care Clinics?
Retail and urgent care clinics make patient access to care convenient, but also have their pitfalls.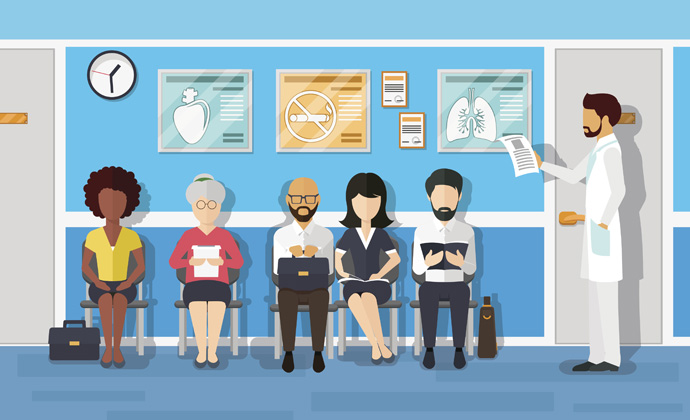 Source: Thinkstock
- Retail and urgent care clinics are an ever-growing segment of the healthcare industry. These alternative treatment sites allow patients to receive care from qualified provider in settings outside of the traditional office or emergency department.
A retail health clinic is one located within a retail store – a CVS MinuteClinic or a Target health clinic, for example. An urgent care clinic is a facility at which patients can receive non-life-threatening emergency care outside of the hospital ED. These clinics are usually standalone, do not have observation beds, and are located within shopping plazas.
Urgent care centers are on the rise, slated for market growth through 2021, according to recent market research. Retail clinics are likewise gaining market share, according to separate reports.
However, urgent care and retail clinics have both their benefits and pitfalls. Patients must be aware of these pros and cons to make informed healthcare decisions. Additionally, patients should understand the functions both urgent care and retail clinics play in order to properly and effectively utilize them.
Pros: Convenient care options
Aside from care quality, convenience is one of the top factors contributing to patient treatment decisions. Patients want to access quality healthcare in a way that is efficient and easy for them. Retail and urgent care clinics are at the forefront of convenient patient care.
READ MORE: What Providers Should Know to Improve Patient Access to Healthcare
Retail clinics, for example, offer patients the opportunity to receive care during their shopping experiences. Additionally, clinic locations in CVS or Walgreens are familiar and easy for patients to get to.
Like retail clinics, urgent care centers are usually located in easy-to-get-to locations, such as shopping plazas. That, coupled with the extended hours during which urgent care centers operate, give patients a simpler solution for receiving non-fatal emergency care.
As a result, more patients have been accessing necessary care, research shows. The National Association of Chain Drug Stores (NACDS) found that more patients receive flu shots when vaccines are offered in retail clinics, likely because of the convenience of the shot.
"Policies to promote immunizations in nontraditional settings (in which administrations have been shown to be cost-effective as a result of lower costs of immunization delivery) may improve access to this preventive care; this improved access can increase immunization rates and ultimately reduce the burden of influenza on the health care system," NACDS reported.
An essential part of patient engagement and patient access to care is making sure treatment is easy for patients to utilize. Bringing care to the patient – either within their shopping plazas or preferred pharmacy – helps to make care more accessible for patients.
Con: Potential deferral to a hospital
READ MORE: Retail Clinics Expand Convenient Patient Access to Lab Services
Although urgent care and retail clinics are notoriously convenient, they do run the risk of making healthcare more complicated. For example, a patient may visit an urgent care facility only to be referred to an emergency department or hospital.
This can happen because the patient was not properly educated on where to receive her care to begin with. They may be experiencing serious symptoms and visit an urgent care facility when the patient should have visited the ED from the start. Patients also may receive an inaccurate diagnosis that then stems into further treatment-seeking following the initial urgent care visit.
Many hospital systems are beginning to create their own urgent care centers and affiliating themselves with retail clinics. While these moves do not entirely prevent patient referral to other care sites, it does make those referrals easier.
A health system with an urgent care clinic on its campus makes it easier for the patient to get from one place to another. And when all of these facilities are operated under the same system, patient data sharing becomes seamless, ending in effective care coordination.
At Kaiser Permanente, which announced plans to open 31 new retail clinics in 2017, a partnership with Target retail clinics will help improve convenience while also making it easy for patients to access Kaiser Permanente facilities.
Pros: Cost effectiveness
READ MORE: 3 Lessons from Retail to Enhance Consumer-Centered Healthcare
Cost effectiveness might be the main benefit of alternative care facilities. Urgent care and retail clinics tend to have a smaller footprint and therefore can have lower costs than emergency departments.
A 2009 survey of urgent care centers found that reimbursement claims were more similar to those of family practice and primary care offices than EDs, highlighting that these facilities might have better cost models.
A 2013 study out of Harvard University found that retail clinic utilization is tied to lower total costs of care. The study compared insurance claims for patients who received care at retail clinics versus those who did not, and found that those who used retail clinics experience lower costs of care by $262.
Those lower costs were likely due to lower expenses at physicians' offices and hospital inpatient care.
Urgent care and retail clinics also offer great price transparency. Many of these facilities list a menu of prices that patients can review prior to receiving care. This benefit, not typically offered in traditional EDs, is essential for patients who need to budget their healthcare expenses. Noting the cost of an encounter prior to visiting the doctor can make a significant difference in the affordability of care.
Con: High costs due to over-utilization
Although at the core urgent care and retail clinics might have lower costs, they also run the risk of accruing a high overall healthcare bill.
This risk is tied to the convenience of these facilities. Because it is so easy to visit a retail clinic, patients have a penchant for over-utilization. Patients will often visit retail clinics when they normally would allow the symptoms to run their course.
A March 2016 Health Affairs study found that retail clinics increase the healthcare cost per patient by $14 each day. This is because a majority of the low-acuity retail clinic visits were new visits, meaning that patients were not substituting the visit with a different, more expensive form of healthcare.
A similar assessment from the RAND Corporation found that retail clinics are resulting in healthcare over-utilization, which has a negative impact on healthcare finances.
"These findings suggest retail clinics do not trim medical spending, but instead may drive it up modestly because they encourage people to use more medical services," Dr. Ateev Mehrotra, an associate professor at Harvard Medical School and an adjunct researcher at the RAND Corporation, said. "Retail clinics do offer benefits such as easier access to medical care, but the widely expected cost savings may not be realized."
Educating patients about proper clinic use
Healthcare professionals can make retail and urgent care clinics work for patients through strong patient education. Patient education should center on the function of each clinic and when the patient should visit different facilities. This will reduce the likelihood of a cumbersome ED referral or high healthcare bill.
Patients should use retail clinics for minor health issues for which they might visit a primary care provider. These issues include rashes, respiratory issues, sinus infections, rashes, bumps, and scrapes. Patients need strong education to understand when an illness, such as a cold, simply needs to run its course versus warrants a healthcare professional visit.
Patients should use urgent care facilities for low-acuity emergency cases or during office off-hours. Services offered include:
Accidents and falls
Bleeding/cuts—not bleeding a lot but requiring stitches
Breathing difficulties (i.e. mild to moderate asthma)
Diagnostic services, including X-rays and laboratory tests
Eye irritation and redness
Fever or flu
Minor broken bones and fractures (i.e. fingers, toes)
Moderate back problems
Severe sore throat or cough
Skin rashes and infections
Sprains and strains
Urinary tract infections
Vomiting, diarrhea or dehydration
If a patient is facing a life-threatening issue, she should call an ambulance and be admitted into the hospital emergency department.
Retail and urgent care clinics have disrupted the way patients access their healthcare. These convenient and cost-effective treatment options have made it easier for patients to receive care and support their own health.
However, patients need strong patient education to better understand how and when to utilize retail and urgent care clinics properly.